How to increase patients traffic to your plastic surgery clinic?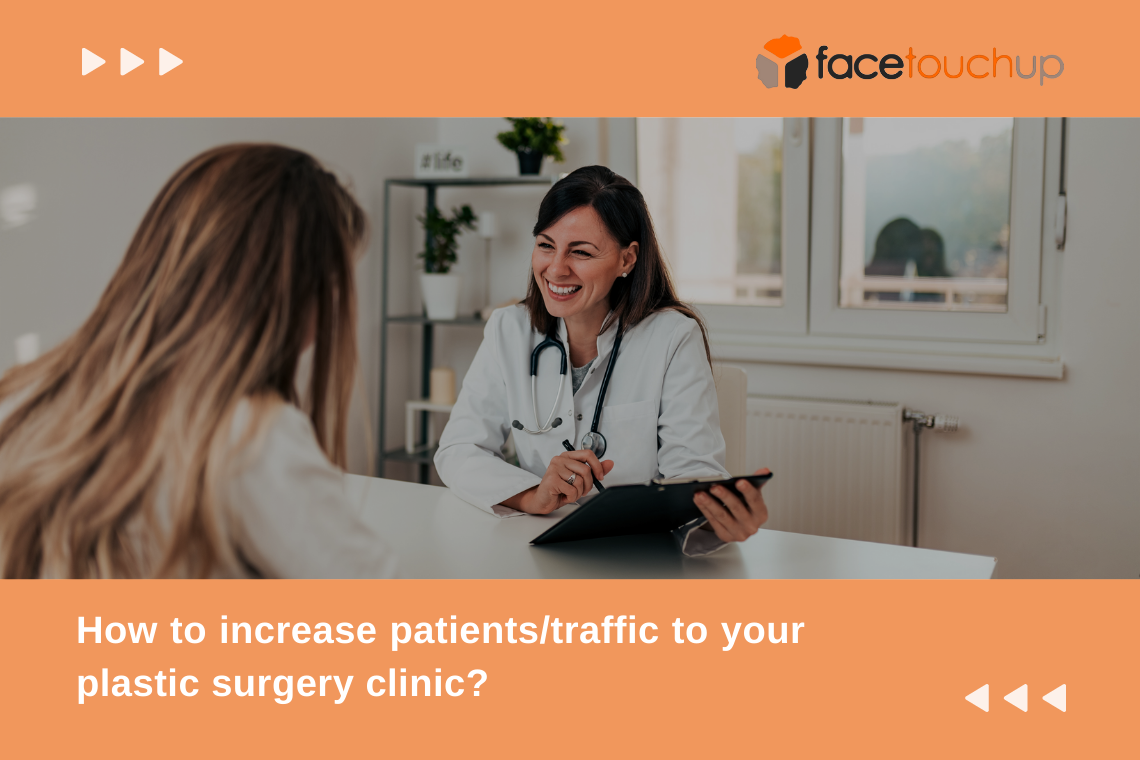 Plastic surgery treatments have advanced a lot in the past decade. However, enough information about the success of such treatments is unavailable. Patients keen on getting these treatments done are often confused with questions about their looks, costs and post-surgery care. Recent research in the UK has shown that 83% of the patients don't want to undergo plastic surgery again. One of the top reasons people avoid plastic surgeries despite needing one is the lack of effective marketing of the treatments.
Many patients know about plastic surgery to get rid of a double chin or plastic surgery to get a nose job done (Rhinoplasty). However, they're unaware of the advancements in the medical field like minimal invasive treatments and plastic surgery simulators that may completely change how they view plastic surgery treatments.
Here are a few top proven strategies that have helped plastic surgeons attract more patients to their clinics:
Web/online presence
Create your web presence
Easy to navigate website
Branding & Visibility
Be searchable
Easy to find
Invest in paid advertising
Content Creation
Create Value-added content for your patients
Content Marketing and
Content Distribution
Build Credibility
Build credibility and trust
Reviews
Testimonials
Adopt technology advancements
Put your patients at ease
Minimal invasive surgeries
Build confidence using the Virtual Plastic Surgery Simulator.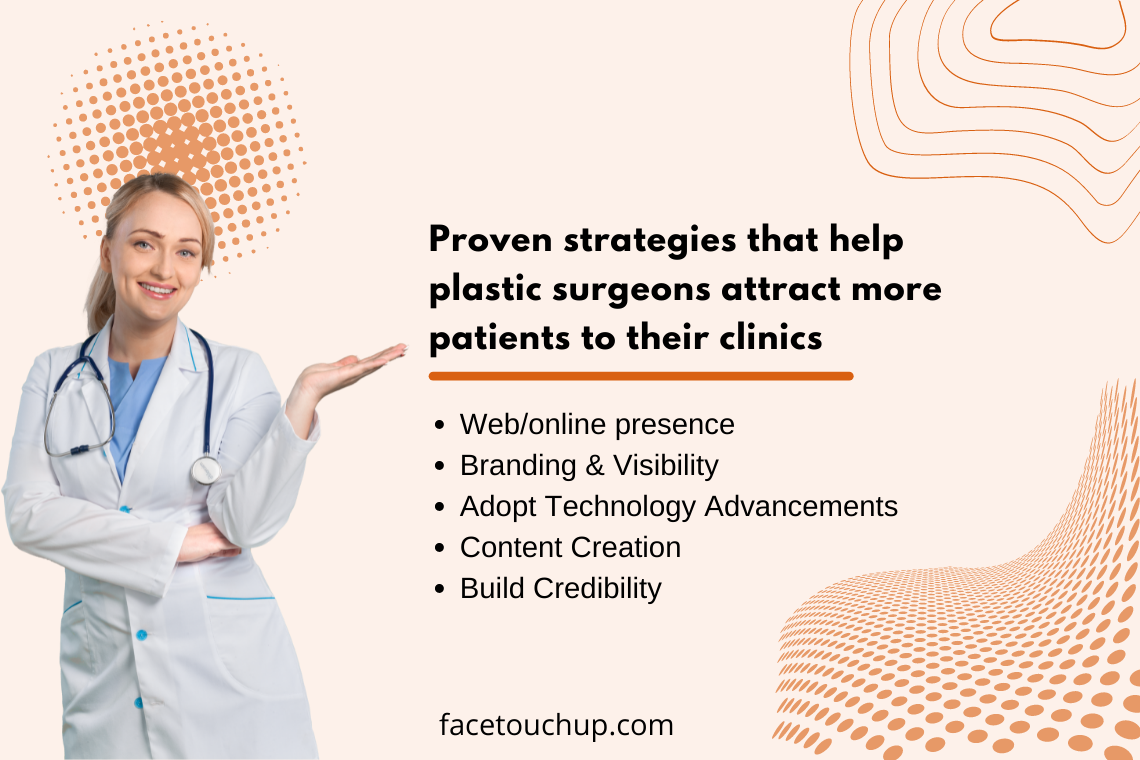 While the above list is very precise, let us deep dive, into each of these aspects:
Web/online presence:
Having a website has become inevitable for any business. And for a healthcare clinic is no different. Here is how a website can help you build your brand:
A neatly designed website creates a first impression of your clinic.
Present an easily navigable website, so your prospective patients understand your services.
Mention your clinic timings on your website clearly, so your patients know when they can walk in.
In case of prior appointments, redirect them to an appointment calendar.
A personal chat window on your website or integrating with your Whatsapp number can bring your patients closer to you. They know that their query will be answered immediately.
Having a website/online presence is more than a digital brochure or a digital visiting card for plastic surgeons. And it helps in showcasing all your services and expertise in one place.
Branding and Visibility:
Now that you have a website making it visible online is very important. As per Statista's research published in January 2022, 302 million internet users are in the United States. This number is expected to grow to 321 million by 2025, of which most of the users are estimated to be the younger generation. While these stats look great, imagine these 302 million people searching for a plastic surgeon's clinic and your website in the top ten search results. Attracting even 1% of the traffic can make a huge difference in your business.
Here are a few tips for creating your visibility:
Create SEO friendly content on your website.
Identify the keywords your customers may use to search for a clinic like yours.
WhatBe visible locally. Target to get into the Top 10 positions of local business listings in Google Search.
Hire a digital marketing consultant to get your digital health check-up done every three months.
Remember, prospects' search behavior changes every few months; hence have your website keywords updated frequently.
Create your social media presence and build your followers, who may eventually become your patients.
Create a personal brand for yourself by leveraging your content and followers.
In today's times, where fraud in the medical field is widely prevalent, patients are often sceptical of brands that do not have an online presence. They trust brands with a vision, logo, and efficient treatment processes.
The easiest way to target your ideal market is by investing in paid advertising. The best platforms to target your ideal prospects on social media are Instagram and Facebook. Plus, advertisements on youtube videos and Twitter redirect people directly to your website for better footfall and better business traction.
Ideally, clinic branding should be addressed towards portraying the niche areas of specializations of the plastic surgeon. Talking about the latest technologies being put into real-time practice would intrigue prospective patients when they land on your website.
Adopt Technology Advancements
Making your patients feel at ease with plastic surgery treatments is important. Leveraging advanced technologies for the benefit of your patients can lead to initiating effective conversations with your prospects and thereby leading to conversions. Here are a few simple tools that can help you become a better service provider:
A self-driven chatbot
A simple insurance calculator for plastic surgery treatments.
Use of micro-devices to perform minimally invasive surgeries.
These tools can answer many of your patients' questions and put them at ease.
The mere mention of the latest technologies on your website or social media posts will elevate your stature in front of your target audience, and it sends a message that you are a pioneer in your practice field. The search result for plastic surgery procedures will bring you closer to your patients, specifically looking for certain procedures, and they will decide to choose you in a blink of an eye.
Content Creation on different platforms
As discussed in the above section on "Branding & Visibility", branding is a 'must' if you want to establish yourself as an authority in your area of expertise. But how to brand yourself and establish yourself as an authority figure? Yes, that is where content creation plays a significant role.
Here are a few ideas for content creation:
Create content that adds value to your prospects. It could be video, text or audio content.
Write expert blogs on your website. Make sure these are SEO friendly and searchable on Google.
Educate your audience through short YouTube videos.
Be a part of Podcasts, where you answer a few questions on a patient's inhibitions when they want to choose plastic surgery treatments.
Try to attend conferences and network with your peers.
Grab a keynote speaker opportunity in B2C healthcare forums.
And finally, don't forget to share these collaterals on your social media handles.
Highlight informative blog posts on your website and consistently post new and relevant posts.
Pro tips:
Use your website for video marketing.
Use plastic surgery simulator on your website. This will lead to more engagement and drive towards increase in consultations.
Make an instructive video of your plastic surgery simulator and place it on the landing page of your website.
Build Credibility:
A testimonial is an assertion from your existing patients that you are an expert in plastic surgery. A text-based testimonial, e-mail testimonial or a social media review or a video testimonial goes a long way to establishing your credibility among your peers. But how to get a testimonial? How can you request a client to review your clinic on social media? Here are a few ideas that you can try:
Ask your patients to review your clinic on social media or on reputed patient review websites. Make these links handy so that they can click and write a quick review.
Have a feedback form on your website, which your patients can use to review your services.
Asking for a quick survey at the end of consultation is a great way to understand your patient's clinic experience and spill a few positive comments, which can be used as a testimonial.
Don't forget to follow up with your patients about requesting a video testimonial once they have undergone surgery and are happy with the results.

Many surgeons are hesitant to convert this powerful asset into marketing collateral. We bring you a few pointers on why a testimonial is important for your clinic:

Prospect patients trust the words of your patients and their experience.
It helps to establish you as an expert in plastic surgery.
It influences prospective patients to decide on their consultations or treatments.
Having Google Reviews for your clinic can increase your chances of being listed higher in a local search result.
As per research conducted by Fan and Fuel, 73% of customers feel that a written review has more value than a star rating.
Hence don't lose an opportunity to get a review from your customers. They are a powerful tool to market your clinic and increase the number of consultations. Whether on your social media account or your website, testimonials are an excellent source of organic lead generation.
Rounding up:
To mark your identity and leave an indelible mark on your patients, you need to stay ahead of time. This would mean keeping your engagement levels with your prospects and patients very high. Invest in advanced technologies like the FaceTouchUp App, which will scale the success graph of your practice to a higher notch.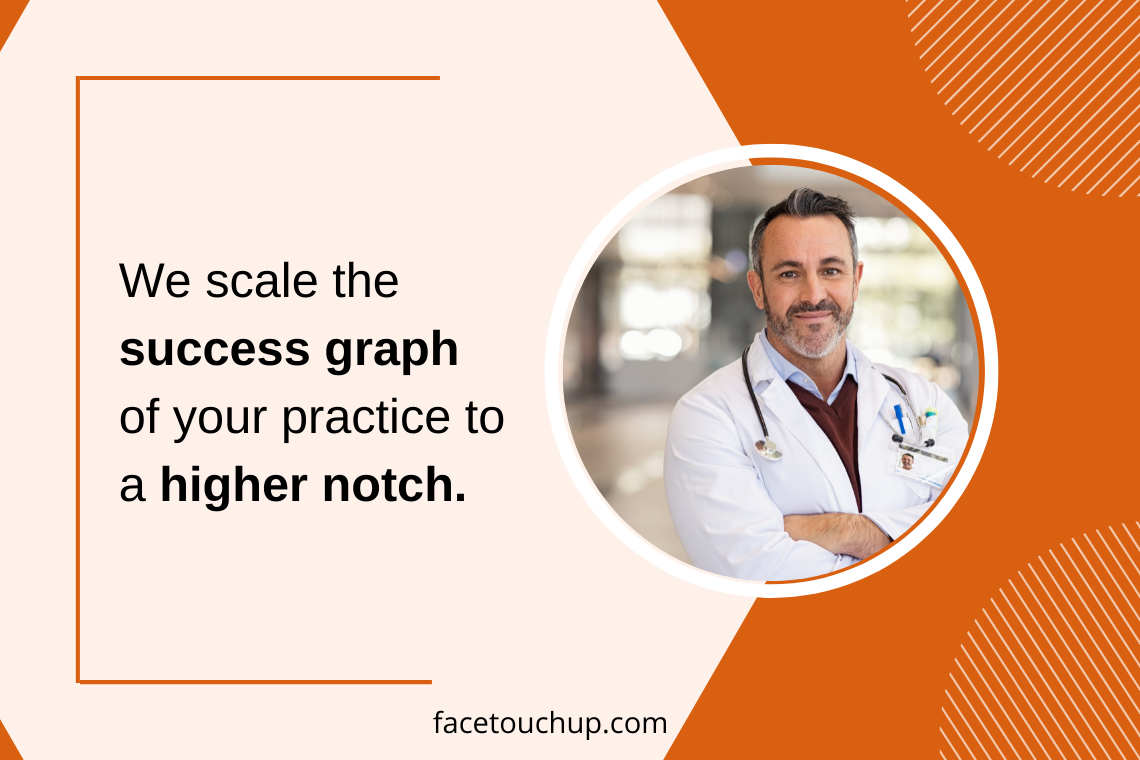 At FaceTouchUp LLC, we focus on helping plastic surgeons attract more patients. FaceTouchUp is an easy-to-use virtual plastic surgery simulator installed on a desktop or website or even a mobile app. It can be tailored to the need of Plastic Surgeons, and it has helped hundreds of plastic surgeons to increase their clinic consultations.